At Diamond Aesthetics we focus on aesthetic and cosmetic treatments for men and women providing solutions for Skin Rejuvenation, Anti-Aging treatments including Wrinkle Relaxing Injections, Dermal Fillers, Dermaroller for Acne Scars and Stretch Marks, Chemical Peels and Prescription Skincare Systems.
Recognising the busy schedule of today's professional, Diamond Aesthetics can address skin care in a most efficient manner. We are well located with easy access from the city and our convenient hours of operation can be extended by appointment.
Diamond Aesthetics is able to offer it's services in a fraction of the time. We have designed a range of treatments which can be conveniently scheduled during your lunch break or in the late afternoon hours.
Our procedures will leave your skin healthy looking with a minimum recuperative down-time needed. Our clinic has a great team of experience doctors, independent nurse prescribers, beauticians and skin care specialists.
During your visit to Diamond Aesthetics you will not only find a safe and professional environment you will also be in the capable hands of our experienced doctors, independent nurse prescribers who have all undergone extensive training within the fields of cosmetic surgery and aesthetic medicine to provide each client with professional, individual and trusted advice.
Our main focus is to help people feel better about what nature has given them through the improvement of their appearance and by taking better care of their health.
We look forward to seeing you soon.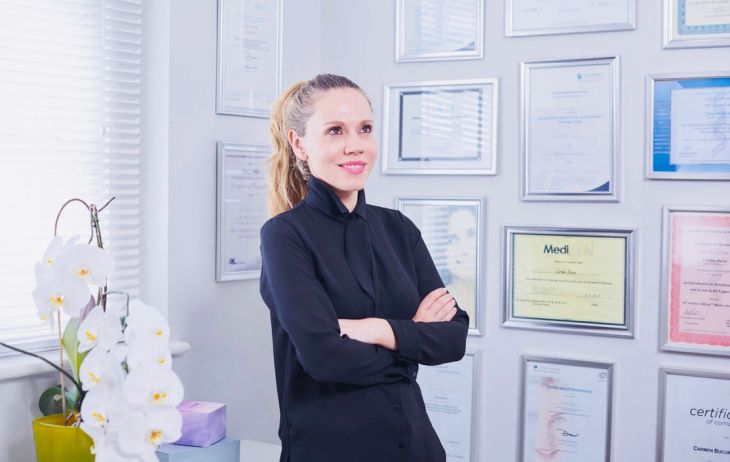 CARMEN BUCUR
INP RGN NMC
Registered Independent Nurse Prescriber (INP)
Registered General Nurse (RGN)
Registered with Nursing Midwifery Council (NMC)
About Carmen
Carmen has been practising as an Aesthetic Nurse for over ten years, working for the top cosmetic surgery company's covering clinics in Harley Street, Cheltenham, Milton Keys and Birmingham. Her clinical background includes cosmetic surgery, theatres and aesthetics were she performed thousands of botox treatments, fillers injections, acne treatments, Obagi skincare systems and peels.
Her extensive career in cosmetic surgery has given her a strong foundation to practice as an expert aesthetic nurse. During that time she has given the opportunity to work alongside many of the top surgeons in the Us and UK.
Her experience has kept her on the cutting edge of advancements in the ever changing aesthetic word. Carmen is highly skilled in providing alternative to restore a more refreshed, younger appearance.
She is known by her colleagues and patients for her artistic eye. Her attention to detail provides results that complement each patient's natural beauty and their aesthetic objective.